1 of 7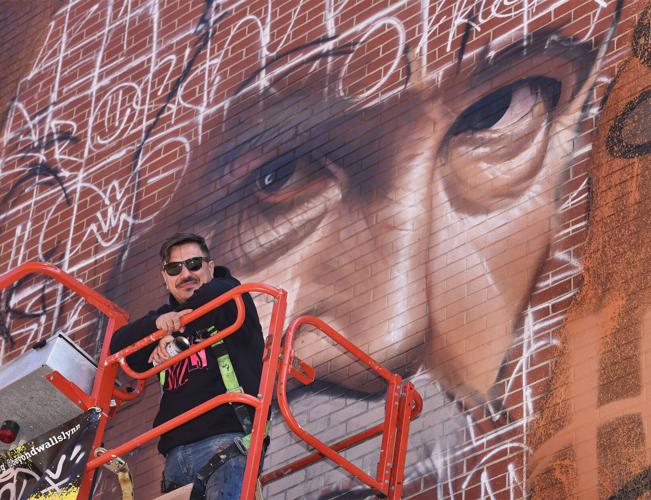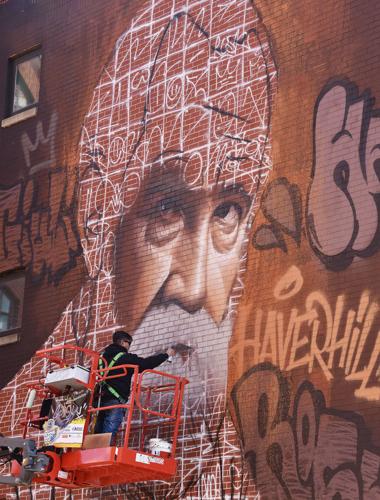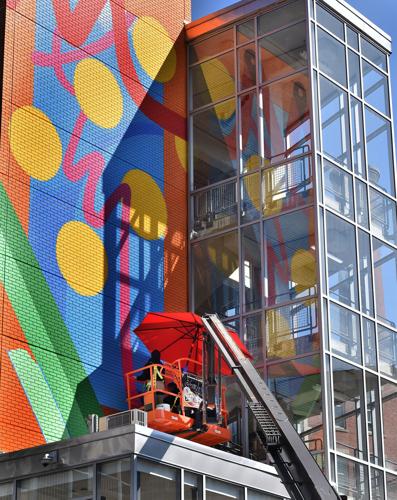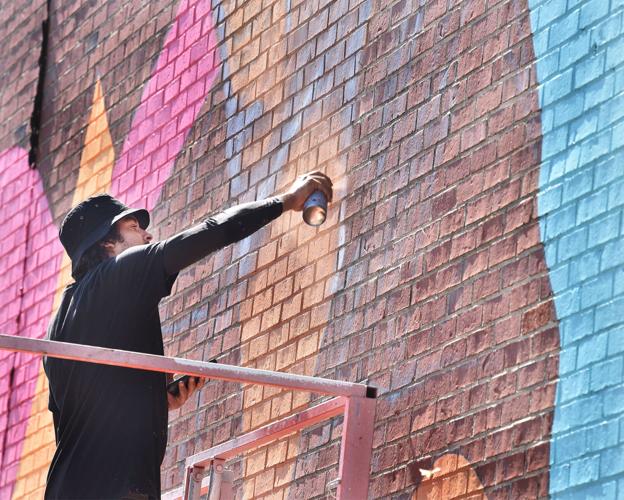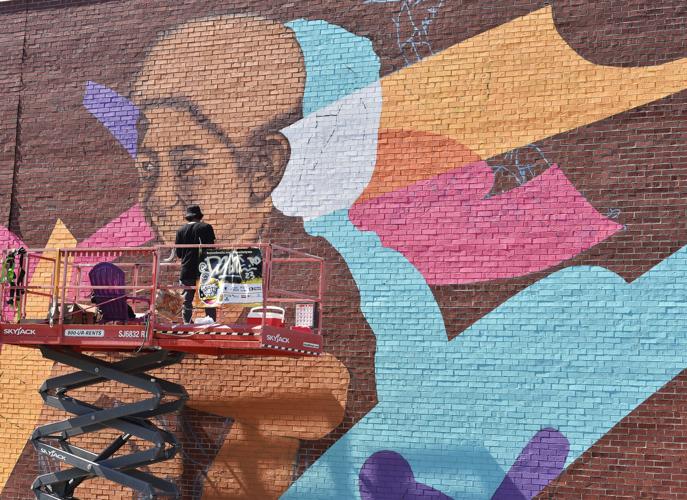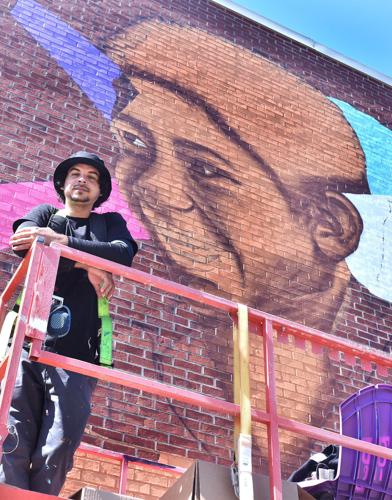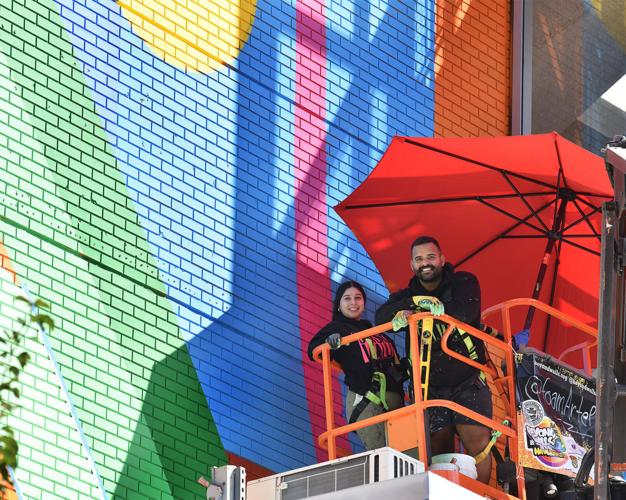 HAVERHILL — Five regionally and internationally recognized street artists recently arrived in Haverhill and are creating large-scale public art that is intended to inspire and intrigue viewers.
The artists were brought to the city by the Lynn-based nonprofit, Beyond Walls.
Officials with Beyond Walls say murals can help eliminate blight, bring positivity to an area, can serve as an economic driver by attracting tourism while enhancing the appreciation of a community.
The new murals add to the public art featured on the walls of various downtown buildings in recent years, such as the monumental Essex Street Gateway Mural.
Artist Giulio Rosk of Sicily is working on a large mural on a wall behind the Haverhill Housing Authority building at 25 Washington Square. The wall overlooks a driveway that is adjacent to the Wicked Big Cafe on Essex Street.
One of the five artists, Cristhian Saravia of Miami, who is known in the art world as Golden305, is also serving as curator and producer for Haverhill's Beyond Walls project. He explained that Rosk's mural features a bearded Italian shoemaker from the 1800s in a dark workshop and dressed in a leather apron. Rock's image is a nod to Haverhill's historic shoemaking industry.
According to his artist biography, Rosk has a unique mural style that blends hyper-realism and the dreamlike result of profound technical knowledge.
"He started by creating a doodle grid, which tells the artist where each feature of his image will be painted," Saravia said. "It's a new technique for turning a small-scale painting into a large- scale painting."
Rosk, who speaks a little English, said he travels the world and has created murals on the walls of cities across the world including Miami; New York City; Mexico City; Sao Paulo and Rio De Janeiro, Brazil; Paris; Amsterdam; London; Barcelona, and Milan.
"I speak the language of the world, but not English very well," Rosk joked.
Artist Johann M Baez of the Dominican Republic, who goes by his artist name, "Dovente," is drawing on his childhood to create a large mural on the rear exterior wall of the Boys & Girls Club. Some of the children at the club helped paint the lower portion of the mural, which depicts a boy and a girl with thoughts swirling around them and various pieces of play equipment and games.
The father and daughter duo of Cristhian Saravia and Ange Saravia are transforming a bare retaining wall at the corner of Broadway and Thorndike Street into an abstract pictorial history of Haverhill.
"My image is the story of Haverhill, from its agricultural beginnings to its shoe industry, to the first movie theater by Louis B. Mayer to the Archie comics, all in super bright and beautiful colors," Cristhian Saravia said.
On the front of the MeVa Parking on Granite Street, artist Michael Mercado or "Foam," who hails from Puerto Rico, is creating an abstract mural using paint and Neon LED lights that will illuminate the mural at night.
"The theme has a feel and look inspired by MeVa's image," Saravia said.
On the west side of Passion Flower Shop at 154 Washington St., Haverhill native Hailey Bonia, also known as "Flourish," is using a large wall as her artist canvas. She is creating a mural of flowers at this gateway to the city.
"There's no better artist to do this than an artist named Flourish," said Charlotte Maher, art director for Beyond Walls.
"This is also a well thought-out image," Saravia added. "Nothing is random about the murals being created."
The fall Haverhill ArtWalk scheduled for Sept. 30 from 1 to 7 p.m. will include free walking tours of the four new downtown murals, plus other existing downtown murals. Meet in front of the Boys & Girls Club of Greater Haverhill at 55 Emerson St. at 1 p.m. and at 3 p.m. Donations accepted.
Al Wilson, founder and executive director of the nonprofit Beyond Walls, said his organization got its start in Lynn in 2016 as a meeting between residents and city officials to bring public art to that city.
"We brought national, international, regional and local mural artists to Lynn and have since installed 80 pieces, choosing artists who represent the cultural identities and demographics of Lynn," he said. "Funding comes from a variety of sources, including state and federal earmarks and grants, philanthropic individuals who care about the arts and various foundations. We also receive support from United Rentals and the International Union of Painters and Allied Trades."
Beyond Walls has since branched out to 10 other communities, with Haverhill being the 11th city it has brought renowned artists to for the creation of public art.
"A coalition in the city allowed and helped make this happen," Wilson said about the various departments and community groups that worked with Beyond Walls to bring new public art to the city.
That coalition included Andrew Herlihy, Haverhill's Community Development Department's division director who filed the application with Beyond Walls, state Rep. Andy Vargas, who secured state funding assistance for the project, Creative Haverhill and Team Haverhill, who helped identify locations for the murals as well as various members of the community.